For The Agronomist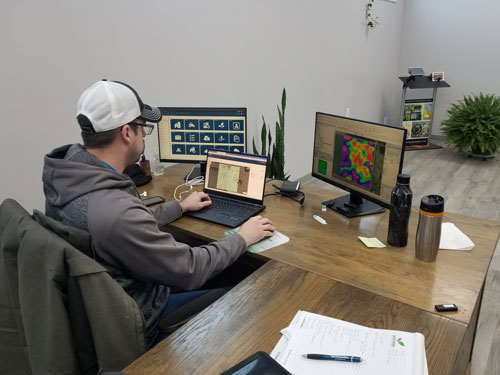 We provide an array of services to agronomists across Western Canada who may not have the skill set, equipment or time to help their clients excel in precision agronomy. We provide these essential services for your agronomy business so that you can focus on what you do best while providing extra value to your customers.
EC/Elevation Mapping:

We will map elevation, shallow and deep electrical conductivity and custom build a final zone set or deliver cleaned raw data.

Drone/MultiSpectrum Imagery:

Flying our Ebee Sequoia we can collect and process a final map or deliver raw data for your own clean up. Satellite imagery is also available and a great tool for quick zone sets for variable rate fungicide applicaiton.

Yield Data Clean-Up:

Once we have the raw data our team goes to work. Clean up involves spatially sorting data, scaling yield and moisture, editing flow pass delay and query yield if needed.

Custom Soil Sampling:

Tailored to your business, we can sample multiple depths. Samples are geo-referenced and if needed shipped to the lab of your choice. Clubroot protocol followed.

Precision Services:

Precision Agronomy can be overwhelming.We specialize in supporting your business through prescription building and implementation, data processing, equipment configuration and precision agronomy advise.